News
Creating spaces that foster creativity, productivity and well-being
Mar 26 2021
We are increasingly aware that the spaces in which we live, be it our homes, workspaces, schools, etc., have a direct impact on our mental and emotional health. For example, it is increasingly obvious that people who spend a lot of time in dirty, untidy environments cluttered with meaningless objects tend to be more stressed or anxious or have a poorer ability to concentrate.
This has shifted the way we think about spaces, especially how we think about workspaces. Disregarding sleeping hours, we often spend more time at our work spot than at home. So, if we try to adapt our home to create comfortable spaces that identify with our lifestyle, why not do the same with our workspace?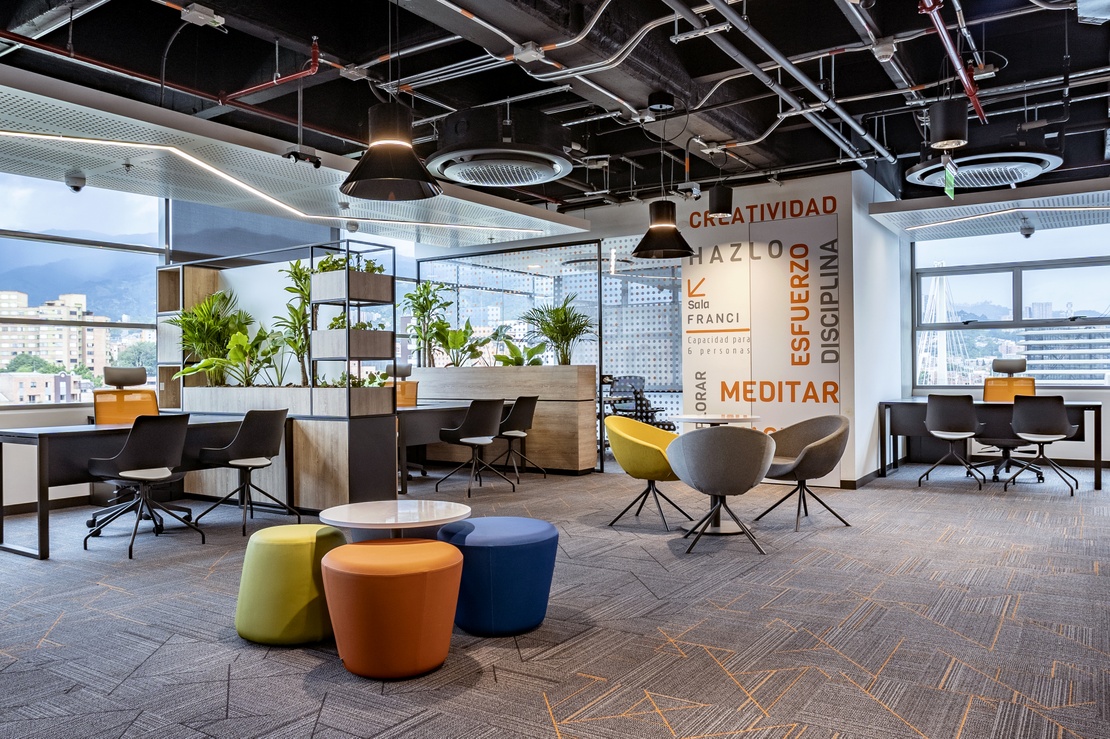 In this regard, the office seems to be a framework that ought to guarantee maximum comfort, as well as offer spaces that promote a sense of belonging and collaborative work.
According to survey data on what people think of their workspaces, and lighting in particular, as reported in the article 'How Does Lighting Affect Mental Health In The Workplace' by Dr Pragya Agarwal and published in Forbes magazine, lighting plays an important role in creating a sense of comfort in workspaces[1]:
80% of users say that good lighting at the workspace is important.
40% claim to work under uncomfortable lighting.
68% of users suffer discomfort associated with inadequate lighting in their working area.
44% claim that insufficient light during the winter negatively affects their well-being.
When creating workspaces, it is essential to think about the people who are going to occupy them and how they are going to relate to them and use them, in order to detect potential issues and find the best solutions. Upgrading the project beyond the purely aesthetic aspect of the space.
In short, design is conceived as a communion between both functionality and aesthetics. If this principle is taken into account in the design of the different space components, from lighting to furniture arrangement, spaces that have a positive influence on workers and guarantee the well-being of the employees in the companies can be created.
[1] https://www.forbes.com/sites/pragyaagarwaleurope/2018/12/31/how-does-lighting-affect-mental-health-in-the-workplace/?sh=74ffdb644ccd
Better spaces for people = happier people = people who work better.
Being trapped in the same environment constantly, without moving, without stimuli, without seeing beyond your immediate space hinders creativity, as well as people's physical health.
That is why it is important to create different spaces within the same space, and lighting can be a great asset in this respect. Simply being able to move from one environment to another is a good way for employees to activate their creativity.
Moreover, it should be considered that the working day goes through different stages even if a job is repetitive and monotonous, especially as manual work is decreasing and intellectual work is increasing.
When creating spaces, it is important to adapt them to the different tasks to be carried out in the work spot. For example, sometimes bright, open spaces may be necessary for employees to see each other and feel that they are part of the same team; while at other times, more secluded spaces without a lot of stimuli/distractions may also be necessary, which can be achieved by using dimmer lights to help employees reflect or relax. Spaces should be differentiated in a way that reinforces their function.
Creative spaces
One of the most demanded skills nowadays is creativity, which helps resolve conflicts in a different and effective way. And our environment can greatly influence these creative behaviours. A bright space with light contrasts that break the monotony of the place creates a more optimistic setting, improving the user's autonomy and fostering decision-making.
Indirect lighting solutions that complement the main lighting by projecting a reflection onto other surfaces, including ceilings or walls (such as the type of lighting achieved with the Ambient luminaire or the Fil 35 and Fil 45 structures) help avoid the 'cavernous' effect that would be created by a space with an unlit ceiling, which results in a more oppressive and pessimistic atmosphere.
Flexible spaces
By nature, people tend to change, and so should work dynamics. This is something that must be addressed when creating workspaces, as they should adapt to different needs that may arise.
Dynamic spaces foster collaboration and a sense of belonging, so lighting must be equally flexible and dynamic, and provide a user-friendly experience. Simple scene selection and control, to which intelligent lighting makes a major contribution, is key to providing the tools necessary to create a pleasant and intuitive environment that does not frustrate the user.
Conscious spaces
Workspaces can be created and recreated because they are not an independent physical entity, but are created from their relationship with the people who occupy them. Everything that is seen, touched, smelled, or heard (or not) contributes to the idea of space and helps create a specific atmosphere.
In the same way it is important to have spaces that foster collaborative work, it is also important to have spaces that invite reflection and help people concentrate on the task at hand and focus on the needs of the moment. In these environments, adequate lighting, together with optimal conditions in terms of acoustics and hygrothermal comfort, will be key to recreating the necessary conditions.
Each individual may require specific environmental conditions to optimise a particular task, so giving the user the ability to customise lighting can be of great help.
Natural spaces
It has been proven that the simple fact of including plants in workspaces increases employees' productivity and creativity. According to a study for Greenlife Industry Australia, plants in workspaces reduce fatigue by up to 38%, hostility by 44%, stress by 37% and despondency by up to 58%.
Access to natural light is also important. Whenever possible, maintaining this connection with the outdoors is very positive for employees' health. The artificial light used to supplement the light coming from outside or to replace it when it is dark, should attempt to offer a similar sensation so that the transition is as smooth as possible.
In addition, nowadays we have technology that not only facilitates emulating natural lighting through changes in colour temperature (tunable white), but it is also possible to incorporate artificial LED lighting indoors, as its light spectrum can be modified to be as similar as possible to the solar spectrum, optimising circadian activation.
In general, through technology and innovation, we are able to create lighting solutions for workspaces that meet today's demands, especially to make them more comfortable. A comfort that contributes enormously to people's well-being and, consequently, to an increase in employees' productivity and creativity.