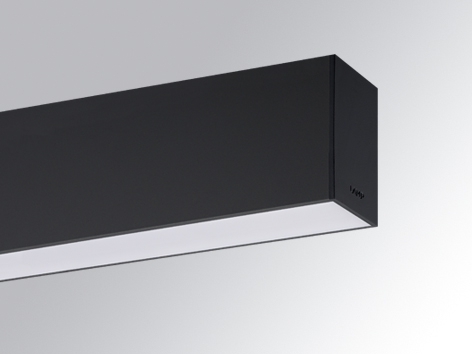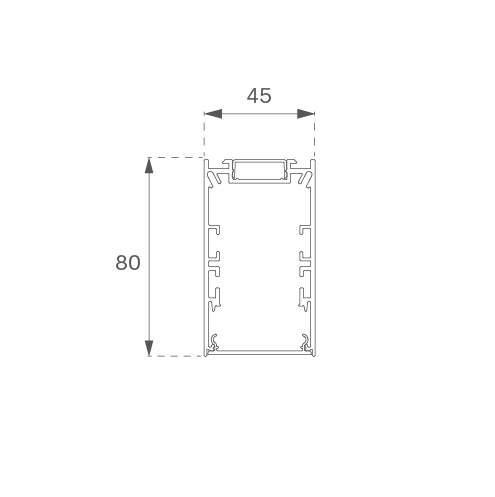 Suspended or mounted surface structure model FIL45 SUR 1400 3250 WW OP COMF BK., LAMP brand. Made of extruded aluminium painted in matt black with an opal comfort diffuser made of a translucent polycarbonate diffuser and an optical film to achieve a controlled light distribution and low glare level, less than UGR 19. Model for LED MID-POWER, warm white color temperature and control gear included. With IP20, IK07 protection rating. Insulation class I. Photobiological safety group 0.
Power:

22,4W

Color temperature:

3000K

Lumen output:

2401

Gear:

Adjustable DALI

Length:

1400mm

Finishing:

Matte black RAL 9011
Features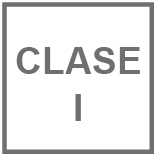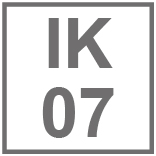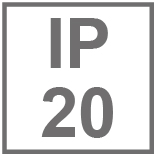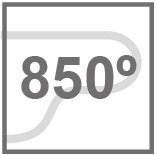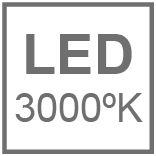 Certificates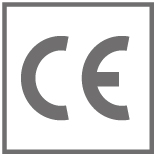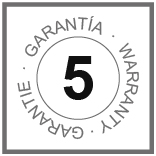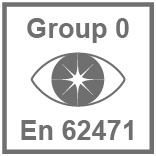 Photometric data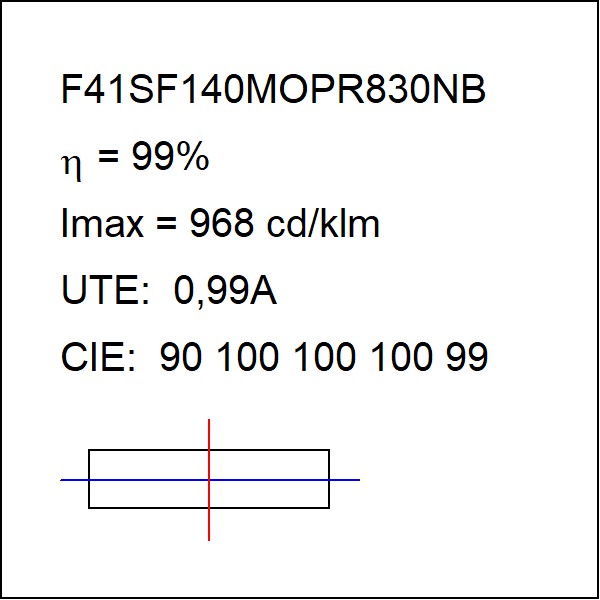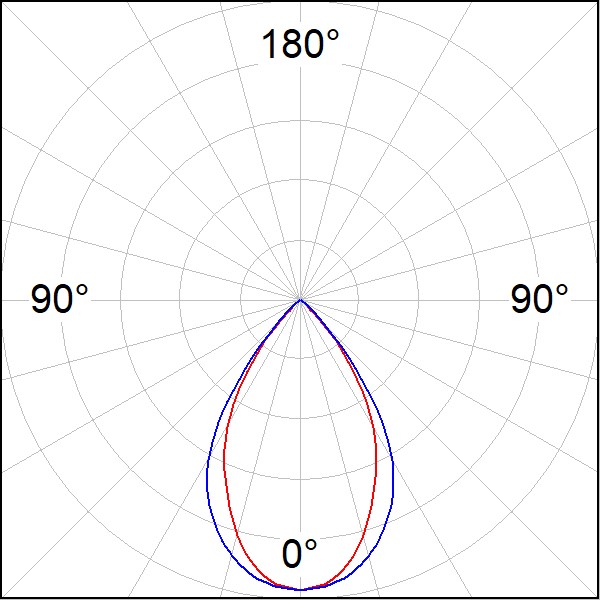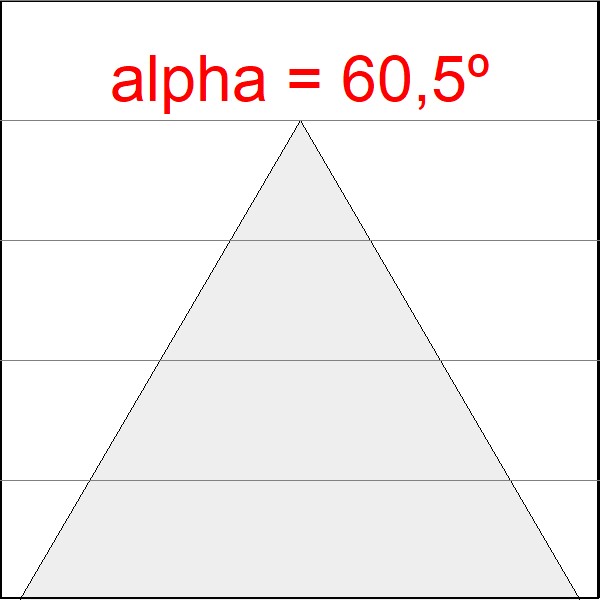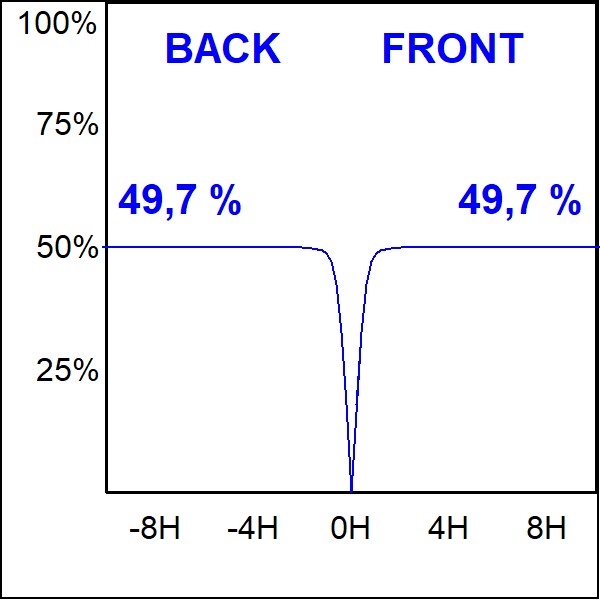 Do you need more information?
Product variants
| Code | W | K | lm out | Gear | Length | Finishing |
| --- | --- | --- | --- | --- | --- | --- |
| F41RE112MOPR840DW | 17,9W | 4000K | 2017 | Adjustable DALI | 1120mm | Matte white RAL 9010 |
| F41RE140MOPR830DB | 22,4W | 3000K | 2401 | Adjustable DALI | 1400mm | Matte black RAL 9011 |
| F41RE140MOPR830NB | 22,4W | 3000K | 2401 | Non-adjustable | 1400mm | Matte black RAL 9011 |
| F41SF112MOPR830NB | 17,9W | 3000K | 1922 | Non-adjustable | 1120mm | Matte black RAL 9011 |
| F41RE168MOPR840NB | 26,9W | 4000K | 3026 | Non-adjustable | 1680mm | Matte black RAL 9011 |
| F41SF084MOPR840NB | 13,5W | 4000K | 1512 | Non-adjustable | 840mm | Matte black RAL 9011 |
| F41RE084MOPR830NG | 13,5W | 3000K | 1441 | Non-adjustable | 840mm | Gloss grey |
| F41SF140MOPR830NW | 22,4W | 3000K | 2401 | Non-adjustable | 1400mm | Matte white RAL 9010 |
| F41RE112MOPR830NG | 17,9W | 3000K | 1922 | Non-adjustable | 1120mm | Gloss grey |
| F41RE140MOPR830NW | 22,4W | 3000K | 2401 | Non-adjustable | 1400mm | Matte white RAL 9010 |
| F41RE168MOPR830NW | 26,9W | 3000K | 2881 | Non-adjustable | 1680mm | Matte white RAL 9010 |
| F41SF140MOPR840DW | 22,4W | 4000K | 2521 | Adjustable DALI | 1400mm | Matte white RAL 9010 |
| F41RE112MOPR830NB | 17,9W | 3000K | 1922 | Non-adjustable | 1120mm | Matte black RAL 9011 |
| F41RE084MOPR830DG | 13,5W | 3000K | 1441 | Adjustable DALI | 840mm | Gloss grey |
| F41RE112MOPR840NG | 17,9W | 4000K | 2017 | Non-adjustable | 1120mm | Gloss grey |
| F41SF140MOPR840NB | 22,4W | 4000K | 2521 | Non-adjustable | 1400mm | Matte black RAL 9011 |
| F41RE168MOPR830NG | 26,9W | 3000K | 2881 | Non-adjustable | 1680mm | Gloss grey |
| F41RE084MOPR830NW | 13,5W | 3000K | 1441 | Non-adjustable | 840mm | Matte white RAL 9010 |
| F41SF112MOPR830DG | 17,9W | 3000K | 1922 | Adjustable DALI | 1120mm | Gloss grey |
| F41RE140MOPR840NG | 22,4W | 4000K | 2521 | Non-adjustable | 1400mm | Gloss grey |
| F41RE084MOPR840DG | 13,5W | 4000K | 1512 | Adjustable DALI | 840mm | Gloss grey |
| F41SF112MOPR840NB | 17,9W | 4000K | 2017 | Non-adjustable | 1120mm | Matte black RAL 9011 |
| F41RE084MOPR840DW | 13,5W | 4000K | 1512 | Adjustable DALI | 840mm | Matte white RAL 9010 |
| F41SF140MOPR840DB | 22,4W | 4000K | 2521 | Adjustable DALI | 1400mm | Matte black RAL 9011 |
| F41SF168MOPR830DB | 26,9W | 3000K | 2881 | Adjustable DALI | 1680mm | Matte black RAL 9011 |
| F41RE168MOPR840DG | 26,9W | 4000K | 3026 | Adjustable DALI | 1680mm | Gloss grey |
| F41SF112MOPR830DB | 17,9W | 3000K | 1922 | Adjustable DALI | 1120mm | Matte black RAL 9011 |
| F41RE140MOPR840DG | 22,4W | 4000K | 2521 | Adjustable DALI | 1400mm | Gloss grey |
| F41SF168MOPR840DG | 26,9W | 4000K | 3026 | Adjustable DALI | 1680mm | Gloss grey |
| F41SF140MOPR830NG | 22,4W | 3000K | 2401 | Non-adjustable | 1400mm | Gloss grey |
| F41RE140MOPR830DW | 22,4W | 3000K | 2401 | Adjustable DALI | 1400mm | Matte white RAL 9010 |
| F41SF112MOPR830NG | 17,9W | 3000K | 1922 | Non-adjustable | 1120mm | Gloss grey |
| F41SF168MOPR830DW | 26,9W | 3000K | 2881 | Adjustable DALI | 1680mm | Matte white RAL 9010 |
| F41SF084MOPR830NB | 13,5W | 3000K | 1441 | Non-adjustable | 840mm | Matte black RAL 9011 |
| F41SF112MOPR840DG | 17,9W | 4000K | 2017 | Adjustable DALI | 1120mm | Gloss grey |
| F41RE168MOPR840NW | 26,9W | 4000K | 3026 | Non-adjustable | 1680mm | Matte white RAL 9010 |
| F41RE140MOPR840DW | 22,4W | 4000K | 2521 | Adjustable DALI | 1400mm | Matte white RAL 9010 |
| F41RE112MOPR830DB | 17,9W | 3000K | 1922 | Adjustable DALI | 1120mm | Matte black RAL 9011 |
| F41SF084MOPR840NW | 13,5W | 4000K | 1512 | Non-adjustable | 840mm | Matte white RAL 9010 |
| F41SF112MOPR840NG | 17,9W | 4000K | 2017 | Non-adjustable | 1120mm | Gloss grey |
| F41SF168MOPR830NW | 26,9W | 3000K | 2881 | Non-adjustable | 1680mm | Matte white RAL 9010 |
| F41SF168MOPR830DG | 26,9W | 3000K | 2881 | Adjustable DALI | 1680mm | Gloss grey |
| F41RE112MOPR840DG | 17,9W | 4000K | 2017 | Adjustable DALI | 1120mm | Gloss grey |
| F41RE084MOPR830DB | 13,5W | 3000K | 1441 | Adjustable DALI | 840mm | Matte black RAL 9011 |
| F41SF168MOPR840NG | 26,9W | 4000K | 3026 | Non-adjustable | 1680mm | Gloss grey |
| F41SF140MOPR840NW | 22,4W | 4000K | 2521 | Non-adjustable | 1400mm | Matte white RAL 9010 |
| F41RE168MOPR840NG | 26,9W | 4000K | 3026 | Non-adjustable | 1680mm | Gloss grey |
| F41SF084MOPR830DG | 13,5W | 3000K | 1441 | Adjustable DALI | 840mm | Gloss grey |
| F41RE084MOPR840NG | 13,5W | 4000K | 1512 | Non-adjustable | 840mm | Gloss grey |
| F41SF168MOPR830NB | 26,9W | 3000K | 2881 | Non-adjustable | 1680mm | Matte black RAL 9011 |
| F41SF140MOPR840DG | 22,4W | 4000K | 2521 | Adjustable DALI | 1400mm | Gloss grey |
| F41RE084MOPR840DB | 13,5W | 4000K | 1512 | Adjustable DALI | 840mm | Matte black RAL 9011 |
| F41RE112MOPR830NW | 17,9W | 3000K | 1922 | Non-adjustable | 1120mm | Matte white RAL 9010 |
| F41SF084MOPR830DW | 13,5W | 3000K | 1441 | Adjustable DALI | 840mm | Matte white RAL 9010 |
| F41RE168MOPR840DW | 26,9W | 4000K | 3026 | Adjustable DALI | 1680mm | Matte white RAL 9010 |
| F41SF140MOPR830DB | 22,4W | 3000K | 2401 | Adjustable DALI | 1400mm | Matte black RAL 9011 |
| F41SF084MOPR840DB | 13,5W | 4000K | 1512 | Adjustable DALI | 840mm | Matte black RAL 9011 |
| F41SF112MOPR830DW | 17,9W | 3000K | 1922 | Adjustable DALI | 1120mm | Matte white RAL 9010 |
| F41SF084MOPR830DB | 13,5W | 3000K | 1441 | Adjustable DALI | 840mm | Matte black RAL 9011 |
| F41RE140MOPR830DG | 22,4W | 3000K | 2401 | Adjustable DALI | 1400mm | Gloss grey |
| F41SF140MOPR840NG | 22,4W | 4000K | 2521 | Non-adjustable | 1400mm | Gloss grey |
| F41SF112MOPR840NW | 17,9W | 4000K | 2017 | Non-adjustable | 1120mm | Matte white RAL 9010 |
| F41SF084MOPR840DG | 13,5W | 4000K | 1512 | Adjustable DALI | 840mm | Gloss grey |
| F41RE084MOPR830NB | 13,5W | 3000K | 1441 | Non-adjustable | 840mm | Matte black RAL 9011 |
| F41RE168MOPR830NB | 26,9W | 3000K | 2881 | Non-adjustable | 1680mm | Matte black RAL 9011 |
| F41SF168MOPR840DW | 26,9W | 4000K | 3026 | Adjustable DALI | 1680mm | Matte white RAL 9010 |
| F41RE140MOPR830NG | 22,4W | 3000K | 2401 | Non-adjustable | 1400mm | Gloss grey |
| F41SF168MOPR840NW | 26,9W | 4000K | 3026 | Non-adjustable | 1680mm | Matte white RAL 9010 |
| F41RE112MOPR830DG | 17,9W | 3000K | 1922 | Adjustable DALI | 1120mm | Gloss grey |
| F41SF084MOPR830NG | 13,5W | 3000K | 1441 | Non-adjustable | 840mm | Gloss grey |
| F41SF168MOPR840NB | 26,9W | 4000K | 3026 | Non-adjustable | 1680mm | Matte black RAL 9011 |
| F41SF140MOPR830DG | 22,4W | 3000K | 2401 | Adjustable DALI | 1400mm | Gloss grey |
| F41SF112MOPR840DW | 17,9W | 4000K | 2017 | Adjustable DALI | 1120mm | Matte white RAL 9010 |
| F41RE140MOPR840NW | 22,4W | 4000K | 2521 | Non-adjustable | 1400mm | Matte white RAL 9010 |
| F41RE112MOPR840NW | 17,9W | 4000K | 2017 | Non-adjustable | 1120mm | Matte white RAL 9010 |
| F41RE140MOPR840DB | 22,4W | 4000K | 2521 | Adjustable DALI | 1400mm | Matte black RAL 9011 |
| F41RE140MOPR840NB | 22,4W | 4000K | 2521 | Non-adjustable | 1400mm | Matte black RAL 9011 |
| F41SF168MOPR840DB | 26,9W | 4000K | 3026 | Adjustable DALI | 1680mm | Matte black RAL 9011 |
| F41RE084MOPR830DW | 13,5W | 3000K | 1441 | Adjustable DALI | 840mm | Matte white RAL 9010 |
| F41SF084MOPR830NW | 13,5W | 3000K | 1441 | Non-adjustable | 840mm | Matte white RAL 9010 |
| F41RE084MOPR840NW | 13,5W | 4000K | 1512 | Non-adjustable | 840mm | Matte white RAL 9010 |
| F41SF112MOPR830NW | 17,9W | 3000K | 1922 | Non-adjustable | 1120mm | Matte white RAL 9010 |
| F41RE112MOPR840DB | 17,9W | 4000K | 2017 | Adjustable DALI | 1120mm | Matte black RAL 9011 |
| F41SF084MOPR840DW | 13,5W | 4000K | 1512 | Adjustable DALI | 840mm | Matte white RAL 9010 |
| F41RE168MOPR830DB | 26,9W | 3000K | 2881 | Adjustable DALI | 1680mm | Matte black RAL 9011 |
| F41SF112MOPR840DB | 17,9W | 4000K | 2017 | Adjustable DALI | 1120mm | Matte black RAL 9011 |
| F41SF140MOPR830DW | 22,4W | 3000K | 2401 | Adjustable DALI | 1400mm | Matte white RAL 9010 |
| F41RE112MOPR830DW | 17,9W | 3000K | 1922 | Adjustable DALI | 1120mm | Matte white RAL 9010 |
| F41SF168MOPR830NG | 26,9W | 3000K | 2881 | Non-adjustable | 1680mm | Gloss grey |
| F41RE168MOPR830DW | 26,9W | 3000K | 2881 | Adjustable DALI | 1680mm | Matte white RAL 9010 |
| F41SF084MOPR840NG | 13,5W | 4000K | 1512 | Non-adjustable | 840mm | Gloss grey |
| F41RE168MOPR840DB | 26,9W | 4000K | 3026 | Adjustable DALI | 1680mm | Matte black RAL 9011 |
| F41RE168MOPR830DG | 26,9W | 3000K | 2881 | Adjustable DALI | 1680mm | Gloss grey |