News
Integrative lighting: The Key to Increase Well-Being in Work Spaces
More and more people are working in front of a screen nowadays, which poses a risk to visual health. Besides taking measures such as using filters, maintaining an appropriate distance and position in front of the screen, or resting your eyes frequently, designing an activity-based lighting is one of the most important strategies that must be implemented to avoid eye discomfort.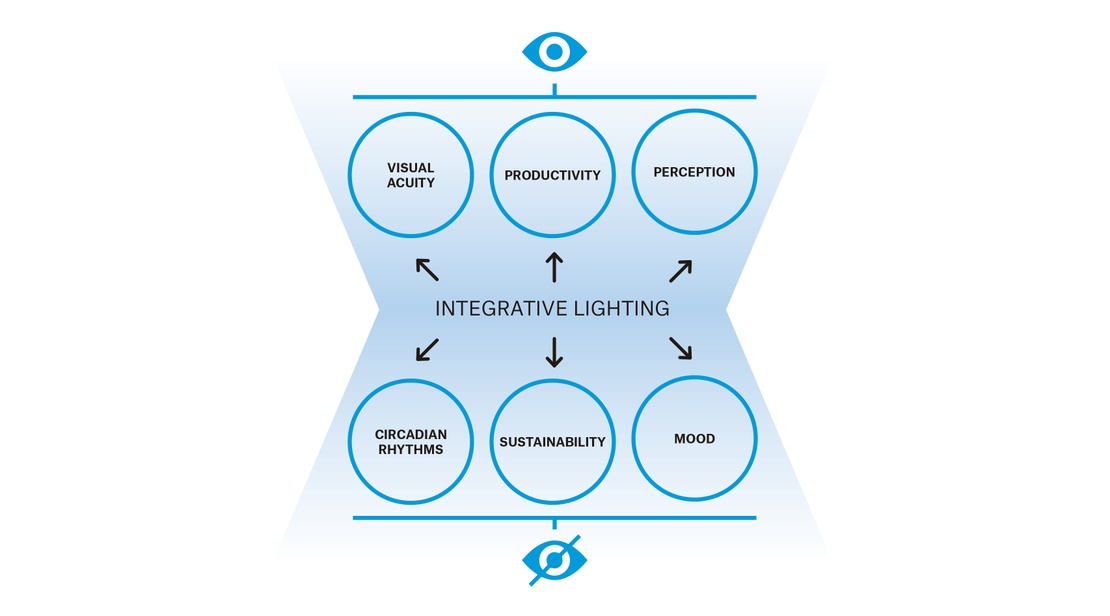 Visual ergonomics is a key factor for workers' well-being in the development of any professional activity. For this reason, lighting design in work spaces must be aimed at eliminating factors that hinder visual activity.
The main issues related to lighting at computerised work spaces are the following:
Direct light reflections on the screens.
Glare on work surfaces caused by intense and direct lighting.
Excessive contrasts due to insufficient lighting of the space.
To achieve a visual comfort that contributes to well-being in professional spaces, two key aspects must be considered:
Contrast perception
It is about distinguishing between backgrounds and figures. When working with computer screens, this is critical. By reducing the contrast between light emitted by screens and the background, the retina does not have to make great efforts to adapt to light intensity changes and, therefore, visual fatigue is reduced. It is advisable to reduce contrasts between nearby spaces in order to obtain good vision conditions.
Colour perception
It is traditionally assessed by the Colour Rendering Index (CRI), which measures ​​the ability of a light source to reproduce colours faithfully. For indoor activities, it is recommended to use luminaires with a CRI greater than 80. This metric is not applicable for the red colour, for which the index known as R9 for measuring the performance of saturated red colour is applied compared to the sample source.
Recently, a new measurement method is gaining attention from lighting professionals: the TM-30-18, which enables to assess colour fidelity and light source saturation from 99 colour samples instead of the 8 colours the CRI uses.
Light distribution for visual comfort
The concept of visual comfort should be the basis on which an appropriate interior lighting design is created in order to achieve the maximum well-being of users. Therefore, before selecting the type of luminaire that will be used, as well as its distribution, it is important to take into account the physical characteristics of the space and the tasks that will be carried out in it.
The characteristics of the user will also determine the lighting design. For instance, age will determine lighting levels, as a person over 65 may require up to three times more lighting to perform a task than a person under 25.
An example of this could be the combination of general lighting linear devices to ensure an adequate luminance level, indirect lighting to light ceilings, and downlights, wallwashers, or spots for walls in order to reduce contrasts. 
In this sense, the combination of lighting for walls, such as the Moody AS luminaires range, and luminaires for ceilings, such as the direct and indirect lighting Fil luminaires, achieves very effective results. In addition, using luminaires with screens and placing them out of workers' visual field will prevent glares.
Human centric lighting
Once the lighting needs related to the correct performance of tasks have been solved, it is time to go further. Light affects us not only visually, but also emotionally and biologically, having a direct impact on our well-being. To meet this perspective, the concept of integrative lighting is built around three purposes:
Providing visual comfort
Adapting to each specific task requirement
Encouraging well-being and health
Connectivity becomes fundamentally relevant in this regard. Thanks to the improvements in this field, it is possible to design strategies based on the remote control of lighting sources to modify the intensity and colour temperature of luminous fluxes and, thus, achieve a total adaptation to the physical and emotional needs of users in different spaces.