News
Lamp's digital debates on architecture and lighting have been consolidated
After the success of the first and second edition of the "Evolution and transformation of Architecture in a post-crisis society" series of round tables that featured some of the most prestigious Spanish architects on the current scene, as well as renowned lighting designers from Latin America, Lamp consolidated this series of digital debates with a third edition that featured an international guest panel, with speakers from Europe, the Middle East and Asia, which was held in English.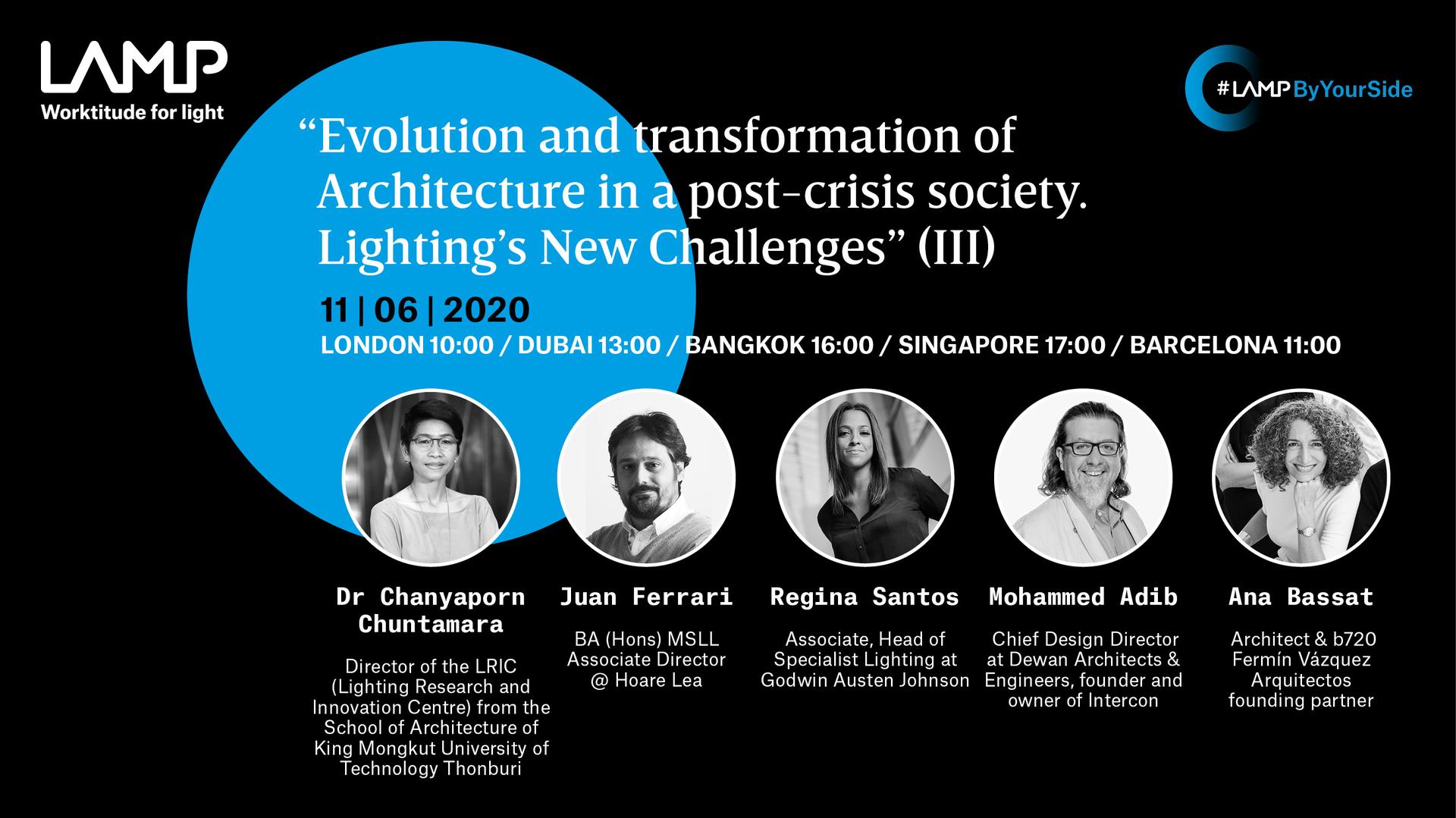 On this occasion, the debate was focused mainly on the architectural transformation and impact on lighting design caused by the current health crisis, at urban spaces, homes and public spaces such as shopping centres, sports facilities, etc.
Entitled "Evolution and transformation of Architecture in a post-crisis society. Lighting's New Challenges" (III), this third debate was attended by 280 registered people and featured interventions by:
Dr Chanyaporn Chuntamara: Director of LRIC (Lighting Research and Innovation Centre) at the School of Architecture and Design, King Mongkut's University of Technology Thonburi
Juan Ferrari: BA (Hons) MSLL, Associate Director @ Hoare Lea
Regina Santos: Associate, Head of Specialist Lighting at Godwin Austen Johnson
Mohammed Adib: Chief Design Director at Dewan Architects & Engineers, founder and owner of Intercon
Anne Bassat: Architect & founding partner of b720 Fermín Vázquez Arquitectos
These are some thoughts shared during the round table:
Pedestrian areas recovery and the importance of human scale in urban lighting design;
Strengthening the identity and redefinition of cities as an organic fabric structured around autonomous, smaller-scale urban cells;
The importance of lighting as a reconnection element between people;
The influence of sunlight and the importance of correctly structuring artificial lighting based on synchronisation with the circadian cycle.
The fourth and final round table will be held soon to conclude this series of debates, this time with a panel of Latin American and Spanish guests where the points of view on architecture and lighting design will once again meet. The date will be confirmed soon, so stay tuned to Lamp's social networks! We will keep you posted through these channels. We hope to see you there!