News
Lamp's digital debate series on architecture and lighting comes to an end
The series of round tables 'Evolution and transformation of Architecture in a post-crisis society' has come to an end after hosting its fourth edition.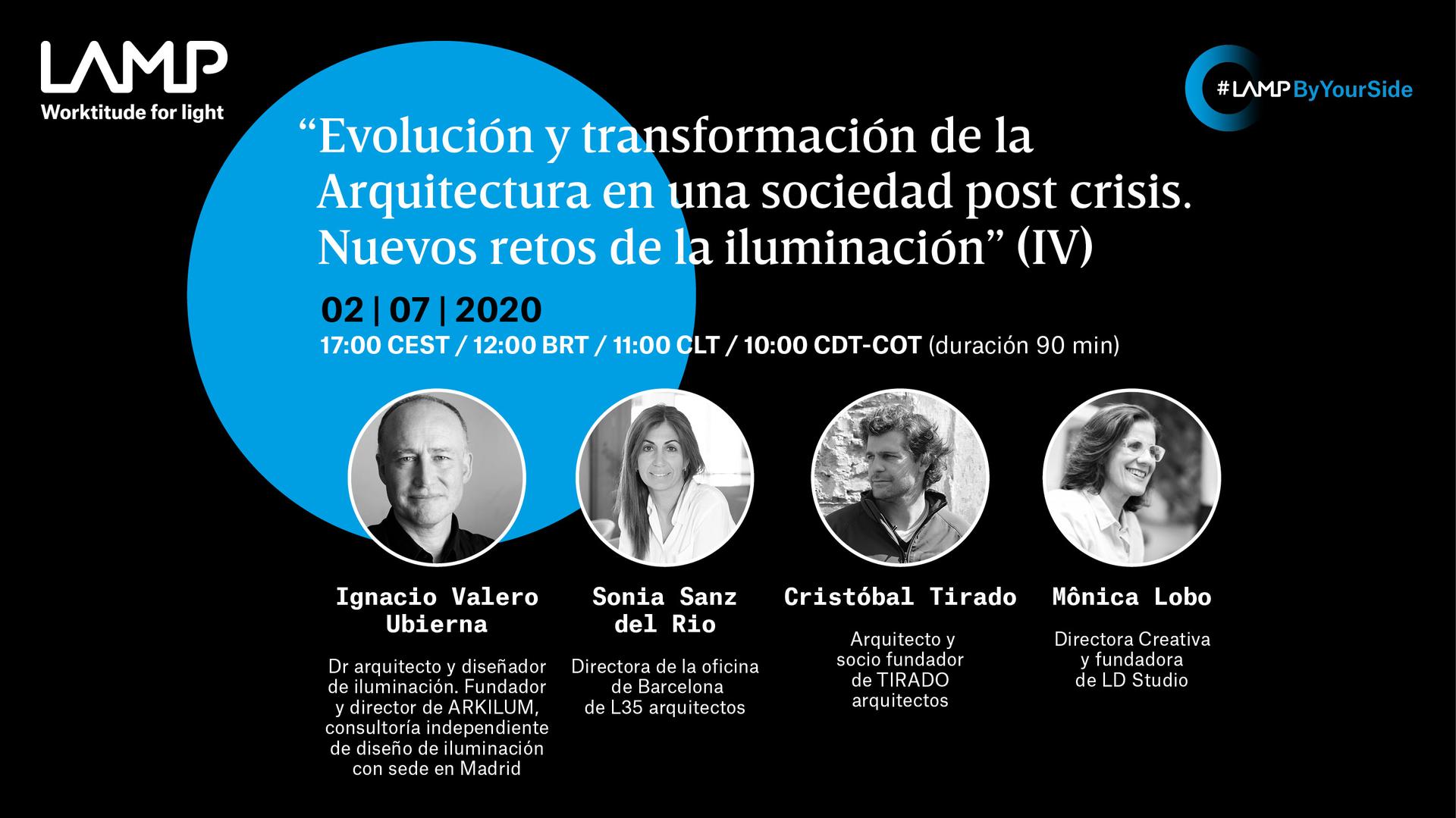 This cycle of debates was closed with a round table that focused mainly on the architectural transformation and impact on lighting design caused by the current health crisis, and what changes can be expected in the 21st century in urban spaces, homes, and public spaces such as shopping malls, sports facilities, etc.
Entitled 'Evolution and transformation of Architecture in a post-crisis society. Lighting's New Challenges' (IV), this fourth and final debate was attended by approximately 160 registered people and featured interventions by:
Ignacio Valero Ubierna: PhD in Architecture and Lighting Designer Founder and manager of ARKILUM, an independent lighting design consultancy based in Madrid
Sonia Sanz del Rio: Manager of the Barcelona office of L35 Architects
Cristobal Tirado: Architect and founding partner of Tirado Arquitectos
Mônica Lobo: Creative Director and founder of LD Studio
Below are included some of the reflections shared during the round table:
Sonia Sanz started the dialogue by considering the city as a slowly evolving 'living' organism transforming itself into a 'landscape' more in line with the concept of the '15-minute City', incorporating the creative power of the community itself;
Ignacio Valero reflected on the increased sensitivity towards 'the essential' and the need to translate that sensitivity into lighting design while advocating for a reconnection with natural light;
The current reality reflected by the mixture of corporate space and very high standards versus common homes with low standards of comfort and well-being; Cristobal Tirado showed his vision of how this crisis can be an opportunity to reverse and balance the situation;
Mônica Lobo, for her part, spoke about the importance of addressing HCL (Human Centric Light) lighting in a holistic and multidisciplinary manner.
At Lamp, we are very happy to have shared these spaces for debate with some of the most important architects and lighting designers on the current international scene (Spain, Latin America, Europe, the Middle East and Asia), who have shared their transversal, global and local vision.
Although this first series of round tables has ended, we'll be back with new content to continue discussing the latest trends in architecture and lighting, and their impact on society and users. We hope to see you all again!