News
Architecture Evolution and Transformation in a Post-crisis Society
Historically, diseases ended up becoming turning points. Following this line of thought, and in view of the global current situation, Lamp has created a space to discuss the possible transformation of architectural spaces in a post-coronavirus scenario in order to meet society's new requirements, uses and concerns, as has already happened before, following other health crises.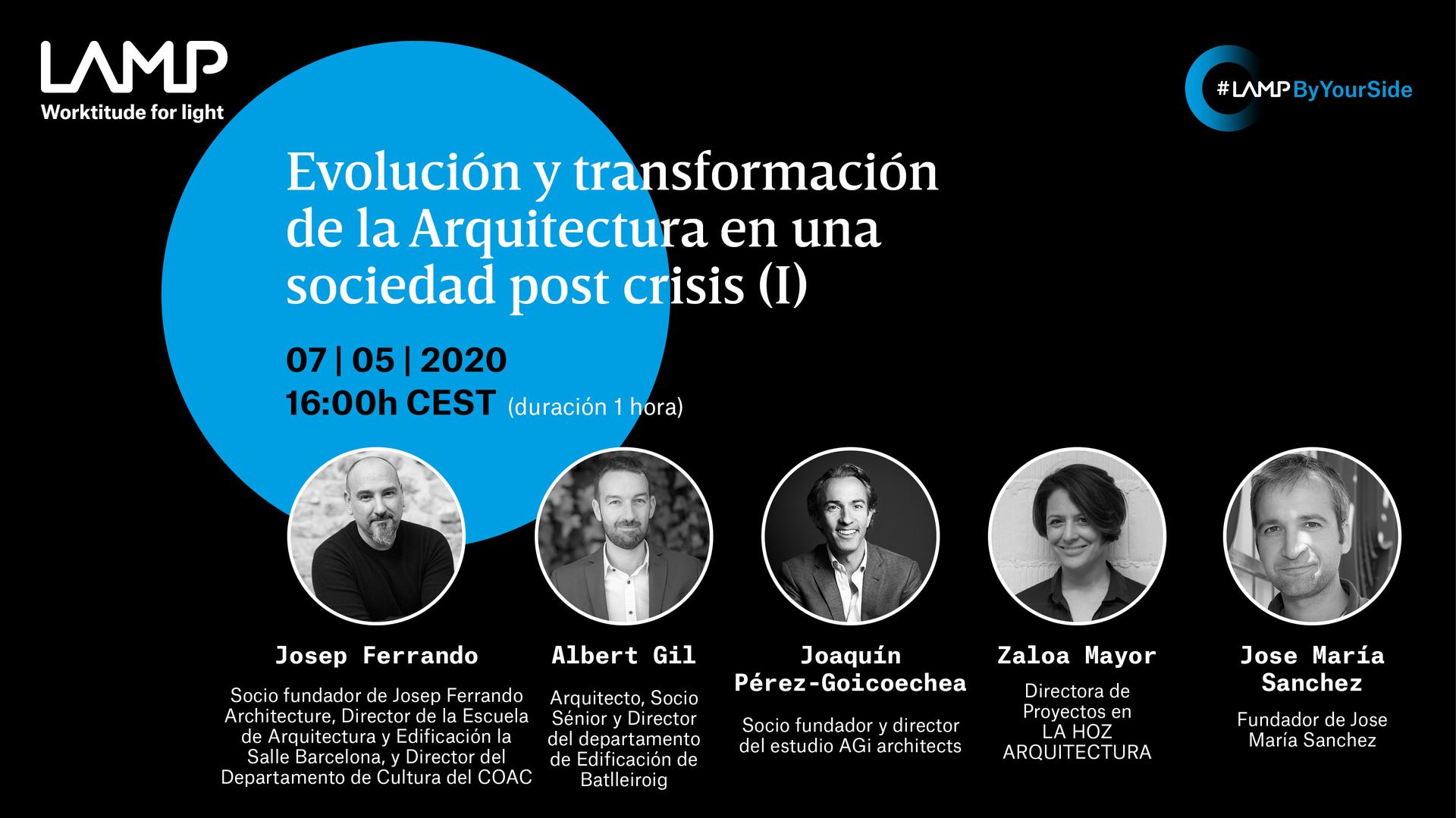 Last week, the first in a series of round tables was held, and these issues were discussed with some of the leading experts in the field.
This first edition, which was attended by more than 250 people, focused on discussing how the current pandemic will affect work, educational, and healthcare spaces. Luckily, the following speakers were able to participate:
Josep Ferrando, founding partner of Josep Ferrando Architecture, director of the School of Architecture and Construction La Salle Barcelona, and Manager of the Department of Culture at the COAC
Albert Gil, Architect, Senior Partner and Construction Department Manager at Batlleiroig
Joaquín Pérez-Goicoechea, founding partner and Manager of AGi architects
Zaloa Mayor, Project Manager at LA HOZ ARQUITECTURA
Jose María Sánchez, Founder of Jose María Sánchez Arquitectos.
Understanding crises as opportunities for progress, as Josep Ferrando reminded during his speech, all the speakers agreed on the need to make spaces flexible and review current regulations.
Some of the topics discussed were related to:
understanding sustainability as an engine generator, with a focus on well-being;
focusing on 'common spaces' as a strategy to provide architecture with more versatility;
rethinking the limits of current spatial typologies and reflecting on these spaces' synchrony of use, so that they can be transformed and their use maximised, while minimising their environmental footprint.
This was the first in a series of round tables that will hold its second edition next 22 May. This time, there will be guests from Latin America who will discuss some of the trends commented on this first debate, providing a vision more focused on lighting. More details about the conference will soon be available on Lamp's social media: speakers, registration form, etc. We hope to see you there!