News
Facing new lighting challenges through Design Thinking
In the words of Mies Van der Rohe: 'Architecture is the will of an epoch translated into space'. At Lamp, we are aware that developing good lighting solutions requires understanding spaces and beyond, understanding the needs of users and how architecture is transformed in order to meet these needs.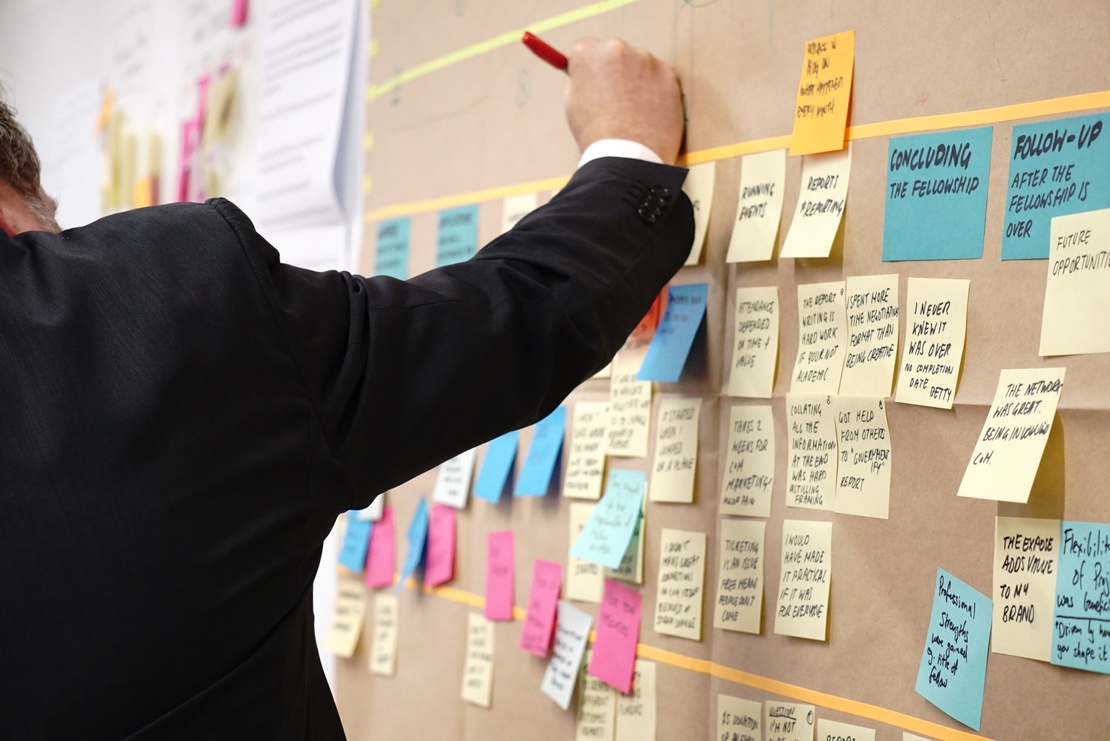 A year ago, at Lamp we decided to incorporate new work methodologies that would bring us closer to users so as to better understand the challenges we face. For this reason we decided to incorporate the methodology of Design Thinking, enriching our internal work processes, for which we turned to the collaboration of Connectingbrains
Design Thinking is a work method that pursues the creation of innovative ideas in order to understand and meet the users' needs through creativity and co-creation, while always working in multidisciplinary groups. From this perspective, it is possible to tackle different internal and external challenges with the purpose of achieving continuous improvement in their processes and results.
At Lamp, we face the following challenge: How can we bring well-being to people in diverse and changing work spaces with practical solutions through light?
Solving challenges: The main purpose
Starting out with an approach that sought to involve all the challenge's participants in the search for new opportunities, different activities were designed to activate the most creative side of the 15 guest participants, from different areas of expertise in the lighting environment.
The team (called NO-MADS), made up of members of the R&D, Marketing, Human Resources and Sales departments, began by analysing one of the fundamental factors in people's daily experience: The physical spaces where we work. The team was able to perform more than 47 in-depth interviews in more than 6 different countries, enabling us to understand the real perception and awareness that users have of light and comfort in global terms, as well as their preferences and needs with respect to these parameters.
To solve the initial challenge, different co-creation sessions were held between the NO-MADS team and other collaborators: Clients, experts and different professional profiles external to Lamp, and even not related to the world of lighting. This ensured a different and enhanced vision. These sessions were based on the construction of ideas collectively, which was valued very positively by all involved.
Understanding the needs of users is key to providing customised solutions and meeting their expectations. For this reason, the design of people or archetypes is portrayed as a very useful practice in this type of work dynamics. If we understand our interlocutor, we will know how we can help them and, in our case, we will be able to contribute to their well-being.
It all starts with prototypes
Once the solutions have been profiled, a series of tools are proposed to carry out a rapid prototyping process that enables the devised solution to be tested in an agile and interactive way in order to achieve different versions. Being aware that the purpose is not to start with the perfect solution, but to set up a discovery process by means of continuous improvement offers a real change to the way we face new challenges.
For months the NO-MADS team worked in different workshops, inside and outside Lamp's facilities. Thanks to spaces such as Palo Alto Market, CISCO Co-Innovation Center or Matter Barcelona, we were able to carry out the sessions in close collaboration with architects, interior designers and lighting designers.
While the initial challenge began with the conceptualisation and design of lighting products, as the process progressed, more focused opportunities opened up in the value proposition from the services' implementation that may be able to improve the experience of users regarding good lighting. This fact highlights how Design Thinking methodology contributes to transforming work dynamics through a development of creativity and empathy towards users.
This process has led to a real opening of new territories to reinforce the philosophy that has always defined Lamp: The development of lighting solutions customised to users' needs.