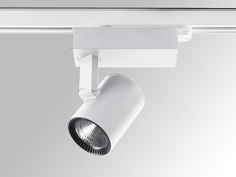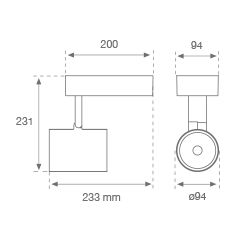 Multi-directional three-phase track projector model IMAG G2 TRACK 3000 NW SP WH., LAMP brand. Manufactured with aluminium die casting and polycarbonate finished in texturized white. Passive dissipation for thermal management. Model for COB LED, with neutral white colour temperature and control gear included. High quality aluminium Spot reflector. Insulation class II.
Overture:

16º

Power:

26W

Color temperature:

4000K

CRI:

80

Lumen output:

2715

Gear:

Non-adjustable

Finishing:

Texturised matt white
Photometric data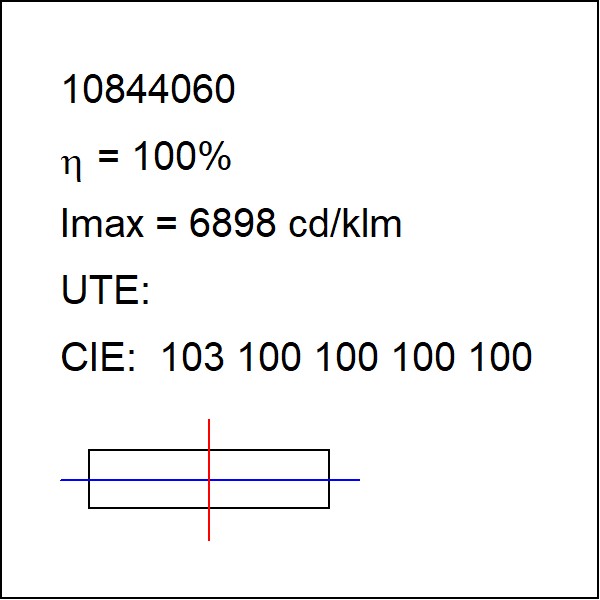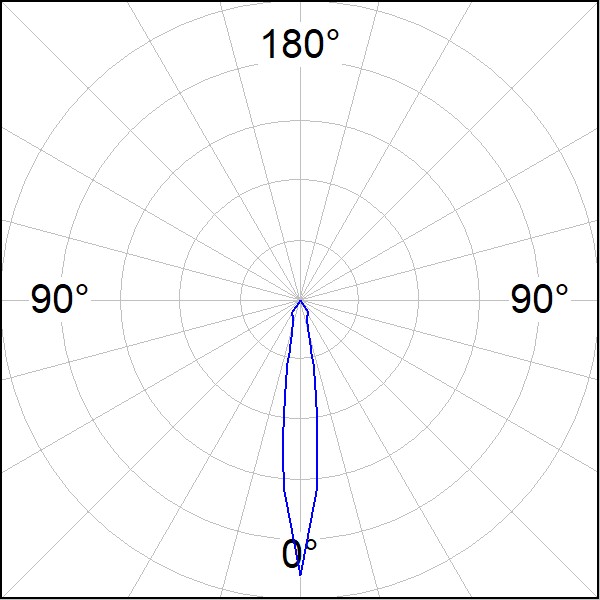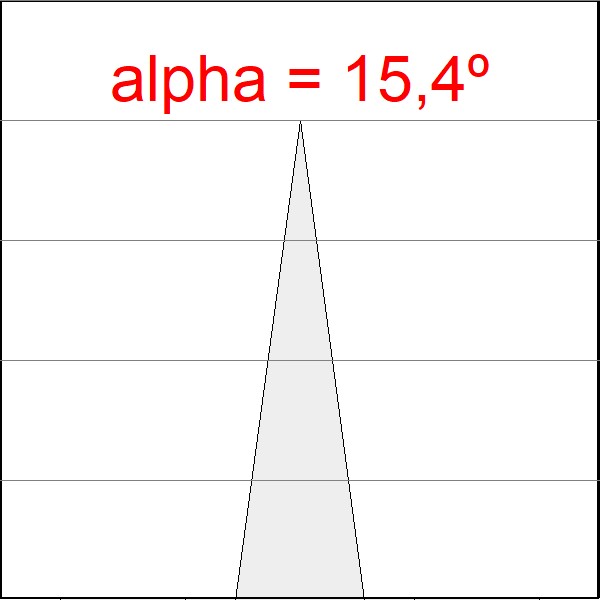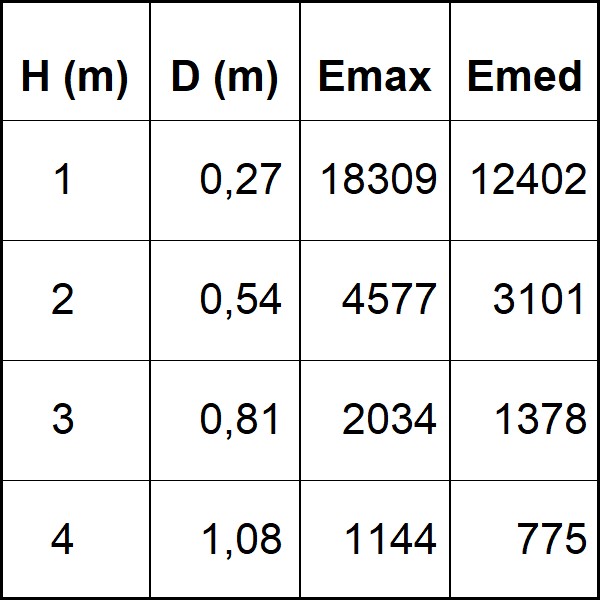 Do you need more information?
Product variants
| Code | ∢ | W | K | CRI | lm out | Gear | Finishing | lm | Gear |
| --- | --- | --- | --- | --- | --- | --- | --- | --- | --- |
| 10843092 | 18º | 30W | 3000K | 80 | 3489 | - | Graphite | 4000 | Non-adjustable |
| 10843090 | 18º | 30W | 3000K | 80 | 3489 | - | White | 4000 | Non-adjustable |
| 10843082 | 33º | 26W | 3000K | 80 | 2662 | - | Graphite | 3000 | Non-adjustable |
| 10843080 | 33º | 26W | 3000K | 80 | 2662 | - | White | 3000 | Non-adjustable |
| 10843072 | 22º | 26W | 3000K | 80 | 2646 | - | Graphite | 3000 | Non-adjustable |
| 10843070 | 22º | 26W | 3000K | 80 | 2646 | - | White | 3000 | Non-adjustable |
| 10843062 | 16º | 26W | 3000K | 80 | 2493 | - | Graphite | 3000 | Non-adjustable |
| 10843060 | 16º | 26W | 3000K | 80 | 2493 | - | White | 3000 | Non-adjustable |
| 10843052 | 33º | 15W | 3000K | 80 | 1798 | - | Graphite | 2000 | Non-adjustable |
| 10843050 | 33º | 15W | 3000K | 80 | 1798 | - | White | 2000 | Non-adjustable |
| 10843042 | 22º | 15W | 3000K | 80 | 1787 | - | Graphite | 2000 | Non-adjustable |
| 10843040 | 22º | 15W | 3000K | 80 | 1787 | - | White | 2000 | Non-adjustable |
| 10843032 | 16º | 15W | 3000K | 80 | 1684 | - | Graphite | 2000 | Non-adjustable |
| 10843030 | 16º | 15W | 3000K | 80 | 1684 | - | White | 2000 | Non-adjustable |
| 10843112 | 35º | 30W | 3000K | 80 | 3689 | - | Graphite | 4000 | Non-adjustable |
| 10843110 | 35º | 30W | 3000K | 80 | 3689 | - | White | 4000 | Non-adjustable |
| 10843102 | 24º | 30W | 3000K | 80 | 3600 | - | Graphite | 4000 | Non-adjustable |
| 10843100 | 24º | 30W | 3000K | 80 | 3600 | - | White | 4000 | Non-adjustable |
| 10843282 | 36º | 44W | 3000K | 80 | 4783 | - | Graphite | 5000 | Non-adjustable |
| 10843280 | 36º | 44W | 3000K | 80 | 4783 | - | White | 5000 | Non-adjustable |
| 10843272 | 26º | 44W | 3000K | 80 | 4795 | - | Graphite | 5000 | Non-adjustable |
| 10843270 | 26º | 44W | 3000K | 80 | 4795 | - | White | 5000 | Non-adjustable |
| 10843262 | 20º | 44W | 3000K | 80 | 4699 | - | Graphite | 5000 | Non-adjustable |
| 10843260 | 20º | 44W | 3000K | 80 | 4699 | - | White | 5000 | Non-adjustable |
| 10843552 | 56º | 30W | 3000K | 80 | 3732 | - | Graphite | 4000 | Non-adjustable |
| 10843550 | 56º | 30W | 3000K | 80 | 3732 | - | White | 4000 | Non-adjustable |
| 10843532 | 57º | 26W | 3000K | 80 | 2984 | - | Graphite | 3000 | Non-adjustable |
| 10843530 | 57º | 26W | 3000K | 80 | 2984 | - | White | 3000 | Non-adjustable |
| 10843512 | 57º | 15W | 3000K | 80 | 2016 | - | Graphite | 2000 | Non-adjustable |
| 10843510 | 57º | 15W | 3000K | 80 | 2016 | - | White | 2000 | Non-adjustable |
| 10844092 | 18º | 30W | 4000K | 80 | 3800 | - | Graphite | 4000 | Non-adjustable |
| 10844090 | 18º | 30W | 4000K | 80 | 3800 | - | White | 4000 | Non-adjustable |
| 10844082 | 33º | 26W | 4000K | 80 | 2859 | - | Graphite | 3000 | Non-adjustable |
| 10844080 | 33º | 26W | 4000K | 80 | 2859 | - | White | 3000 | Non-adjustable |
| 10844072 | 22º | 26W | 4000K | 80 | 2845 | - | Graphite | 3000 | Non-adjustable |
| 10844070 | 22º | 26W | 4000K | 80 | 2845 | - | White | 3000 | Non-adjustable |
| 10844062 | 16º | 26W | 4000K | 80 | 2715 | - | Graphite | 3000 | Non-adjustable |
| 10844060 | 16º | 26W | 4000K | 80 | 2715 | - | White | 3000 | Non-adjustable |
| 10844052 | 33º | 15W | 4000K | 80 | 1922 | - | Graphite | 2000 | Non-adjustable |
| 10844050 | 33º | 15W | 4000K | 80 | 1922 | - | White | 2000 | Non-adjustable |
| 10844042 | 22º | 15W | 4000K | 80 | 1910 | - | Graphite | 2000 | Non-adjustable |
| 10844040 | 22º | 15W | 4000K | 80 | 1910 | - | White | 2000 | Non-adjustable |
| 10844032 | 16º | 15W | 4000K | 80 | 1800 | - | Graphite | 2000 | Non-adjustable |
| 10844030 | 16º | 15W | 4000K | 80 | 1800 | - | White | 2000 | Non-adjustable |
| 10844562 | 56º | 44W | 4000K | 80 | 5047 | - | Graphite | 5000 | Non-adjustable |
| 10844560 | 56º | 44W | 4000K | 80 | 5047 | - | White | 5000 | Non-adjustable |
| 10844552 | 56º | 30W | 4000K | 80 | 4057 | - | Graphite | 4000 | Non-adjustable |
| 10844550 | 56º | 30W | 4000K | 80 | 4057 | - | White | 4000 | Non-adjustable |
| 10844532 | 57º | 26W | 4000K | 80 | 3108 | - | Graphite | 3000 | Non-adjustable |
| 10844530 | 57º | 26W | 4000K | 80 | 3108 | - | White | 3000 | Non-adjustable |
| 10844512 | 57º | 15W | 4000K | 80 | 2100 | - | Graphite | 2000 | Non-adjustable |
| 10844510 | 57º | 15W | 4000K | 80 | 2100 | - | White | 2000 | Non-adjustable |
| 10844282 | 36º | 44W | 4000K | 80 | 4893 | - | Graphite | 5000 | Non-adjustable |
| 10844280 | 36º | 44W | 4000K | 80 | 4893 | - | White | 5000 | Non-adjustable |
| 10844272 | 26º | 44W | 4000K | 80 | 4964 | - | Graphite | 5000 | Non-adjustable |
| 10844270 | 26º | 44W | 4000K | 80 | 4964 | - | White | 5000 | Non-adjustable |
| 10844262 | 20º | 44W | 4000K | 80 | 4895 | - | Graphite | 5000 | Non-adjustable |
| 10844260 | 20º | 44W | 4000K | 80 | 4895 | - | White | 5000 | Non-adjustable |
| 10844112 | 35º | 30W | 4000K | 80 | 4017 | - | Graphite | 4000 | Non-adjustable |
| 10844110 | 35º | 30W | 4000K | 80 | 4017 | - | White | 4000 | Non-adjustable |
| 10844102 | 24º | 30W | 4000K | 80 | 3920 | - | Graphite | 4000 | Non-adjustable |
| 10844100 | 24º | 30W | 4000K | 80 | 3920 | - | White | 4000 | Non-adjustable |
| 10843562 | 56º | 44W | 3000K | 80 | 4845 | - | Graphite | 5000 | Non-adjustable |
| 10843560 | 56º | 44W | 3000K | 80 | 4845 | - | White | 5000 | Non-adjustable |
| 10843250 | 33º | 30W | 3000K | 90 | 2822 | - | White | 3000 | Non-adjustable |
| 10843242 | 22º | 30W | 3000K | 90 | 2805 | - | Graphite | 3000 | Non-adjustable |
| 10843240 | 22º | 30W | 3000K | 90 | 2805 | - | White | 3000 | Non-adjustable |
| 10843232 | 16º | 30W | 3000K | 90 | 2643 | - | Graphite | 3000 | Non-adjustable |
| 10843230 | 16º | 30W | 3000K | 90 | 2643 | - | White | 3000 | Non-adjustable |
| 10843222 | 33º | 19W | 3000K | 90 | 1957 | - | Graphite | 2000 | Non-adjustable |
| 10843220 | 33º | 19W | 3000K | 90 | 1957 | - | White | 2000 | Non-adjustable |
| 10843212 | 22º | 19W | 3000K | 90 | 1945 | - | Graphite | 2000 | Non-adjustable |
| 10843210 | 22º | 19W | 3000K | 90 | 1945 | - | White | 2000 | Non-adjustable |
| 10843202 | 16º | 19W | 3000K | 90 | 1833 | - | Graphite | 2000 | Non-adjustable |
| 10843200 | 16º | 19W | 3000K | 90 | 1833 | - | White | 2000 | Non-adjustable |
Accessories